I figured it was time for another recipe blog post, but it's always hard to narrow down which recipes to talk about, how they should fit together, and which ones my readers really care to read about.
I usually go with healthy, easy to moderate recipes, and practical time constraints that work in busy people's lives
Here is a list of some of my favorite dinners to prepare, with a salad and dessert that can go with any of them—or really fit into any aspect of lunch, dinner, and snacks!
Feta-Stuffed Chicken
(Credit: http://www.skinnymom.com/feta-stuffed-chicken/)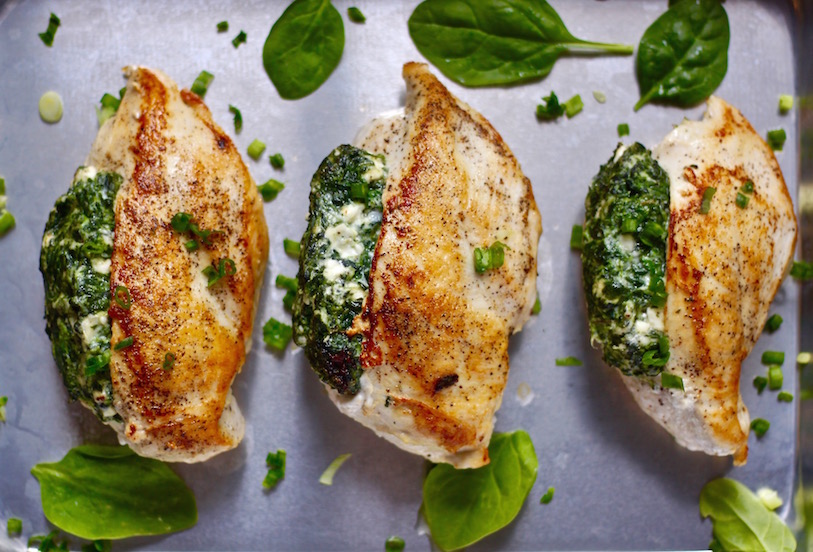 This is a super simple dish, yet it looks fancy and like it took some real skill to put together (that's how I get by). My family refers to this as a "nice dinner." Especially if I add salad, rolls, and a dessert. Here is the basic recipe (I add a bit more to it in order to make enough for my family of 5)
Preparation: 10 min.
Cook Time: 35-40 min.
Servings: 4
Serving Size: 1 breast
Ingredients:
4 boneless and skinless chicken breasts (4 oz. each)

½ tsp salt

½ tsp black pepper

½ tsp extra virgin olive oil

1 package of frozen, thawed spinach (10 oz.)

1 tsp minced garlic

½ tsp basil (dried

⅓ cup Feta cheese crumbles (reduced-fat)

½ cup low-sodium chicken broth

1 tbsp lemon juice

1 tbsp butter (unsalted)

½ tsp garlic powder

½ tsp oregano (dried)

½ tsp parsley (dried)

½ tsp Italian seasoning

8 toothpicks
Directions:
Spray casserole dish with cooking spray and preheat your oven to 350

℉

.

Put the breasts into a plastic bag and pound the chicken to about ¼ in. thick with a mallet.

Season the chicken with salt and black pepper (both sides) and put them on a plate.

Heat the oil over medium-low in a saucepan. Add spinach, basil, and garlic in and cook until the spinach is heated all the way through (about 8 min.).

Remove the pan from heat and stir in the Feta cheese.

Evenly pour the spinach mixture over each chicken breast.

Roll the breasts up so it creates a sort-of taco. Now secure the ends with 2 toothpicks.  Put the chicken in the dish with their seam-side down.

Heat your saucepan over medium-low heat and add the chicken broth, lemon juice, butter, and the rest of your seasonings. Keep cooking until your butter has melted and everything is warmed through (about 5 min.) while stirring occasionally.

Lightly pour ½ cup of sauce over the chicken and then bake them for 30-35 minutes (until inside temp. of chicken is 165

℉

.).
Enjoy your fancy, fit, tasty meal!
Tex-Mex Casserole
(Credit: http://www.skinnymom.com/skinny-tex-mex-casserole/)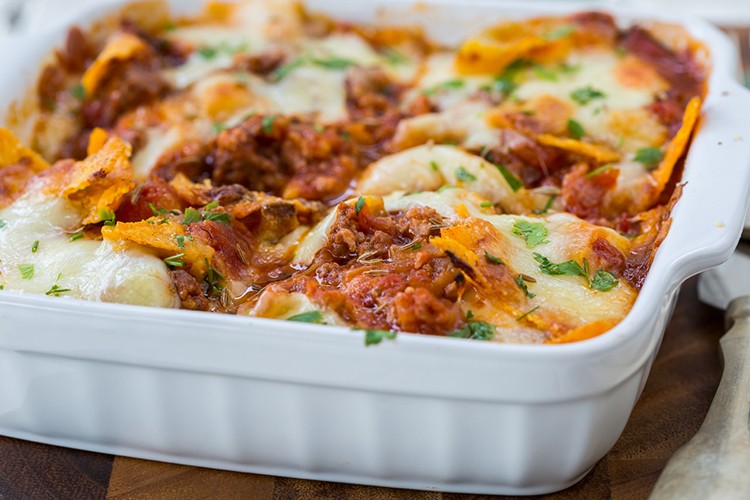 This awesome recipe is super simple and very tasty. It's my son's favorite, and he's asks me or his father for it like every other day…no joke.
Preparation: 10 min.
Cook Time: 30 min.
Servings: 8
Serving Size: 1 ½ cups of prepared casserole
Ingredients:
8 oz. whole wheat penne pasta

1 lb. ground beef (lean)

1 small onion (diced)

1 tsp minced garlic

1 can of condensed tomato soup (10.5-ounce)

1 can low-sodium black beans (drained and rinsed), (15-ounce)

1 can low-sodium whole kernel corn (drained), (15.25-ounce)

1 can diced tomatoes and green chilies (10-ounce)

1 can chopped green chilies (4.5-ounce)

2 tsp chili powder

1½ tsp ground cumin

½ tsp salt

½ tsp black pepper

½ cup shredded four cheese Mexican blend (reduced fat)

1 tomato (diced)
Directions:
Spray non-stick cooking grease over a 13×9-inch baking dish and preheat your oven to 350° F.

Boil a large pot of salted water over high heat, then cook the pasta according to the package instructions. Drain when done.

Over medium-high in a large skillet, cook your beef, onion, and garlic for about 7-8 min. or until the beef isn't pink anymore (make sure to break up the beef as it cooks). Drain extra fat. Return skillet to the stove over low heat.

Add in the cooked pasta, beans, soup, corn, green chilies, corn, diced tomatoes, cumin, chili powder, cumin, salt and black pepper to the skillet and combine and stir well.

Put the mixture into the baking dish and scatter the cheese over the top. Bake uncovered in the oven for about 18-20 minutes or until the cheese is melted and the ingredients are heated all the way through.

You can sprinkle the top with diced tomatoes and basil before you serve.
Slow-Cooker Chicken Pot Pie
(Credit: http://www.skinnymom.com/skinny-slow-cooker-chicken-pot-pie/)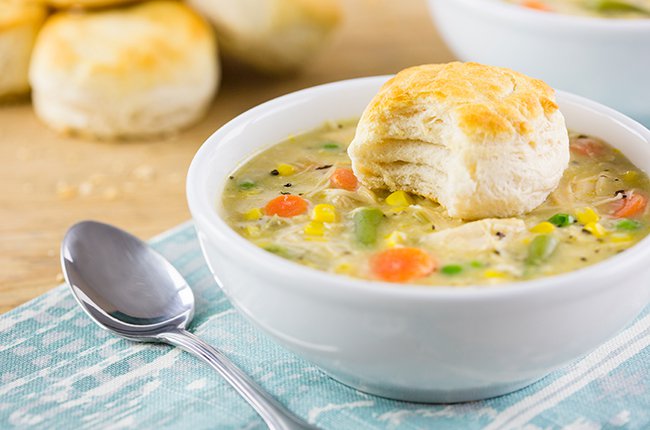 Though the hours on this are long in the slow cooker, it is perfect for the busy days. All I have to do is throw it in the slow cooker and let it do its magic.
I just love this recipe for fall and winter days. It just fills my house with warm, comforting smells of chicken and seasoning. Yum!
Preparation: 10 Minutes
Cook Time: 4 hours (on high) or 8 hours (on low)
Servings: 6
Serving Size: 1 biscuit and 1 cup of yummy pot pie.
Ingredients:
1 lb. boneless, skinless chicken breasts

1 small onion (diced)

3½ celery stalks (diced)

2 10.5 oz. cans condensed cream of chicken soup

1 cup milk (fat-free)

1 tsp garlic powder

1 tsp dried thyme

½ tsp salt

½ tsp black pepper

1 bag thawed frozen mixed vegetables (16-ounce)

2 tbsp parsley (chopped)

1 can of biscuits (12-ounce)
Directions:
Put the chicken in the slow cooker and top it with the celery and the onion.

Mix the chicken soup, garlic powder, milk, thyme, salt, and pepper in a small bowl and whisk the mixture well. Then pour it into the slow cooker with the chicken.

Cover and cook it on high for 4 hours or on low for 8 hours.

About half an hour before you serve it, take the chicken out and shred it with a couple forks. Return the chicken to the mix and the mix in the veggies and parsley. Make sure to keep it cooking for that last half hour.

Preheat the oven to about 400° F and bake up those biscuits for the last while so that they are all warm when you eat.

Enjoy that delicious meal.
Lemon Quinoa Cilantro Chickpea Salad  
(Credit: http://thediva-dish.com/dinner/healthy-living-class-green-drinks-sweet-eats-and-salads/)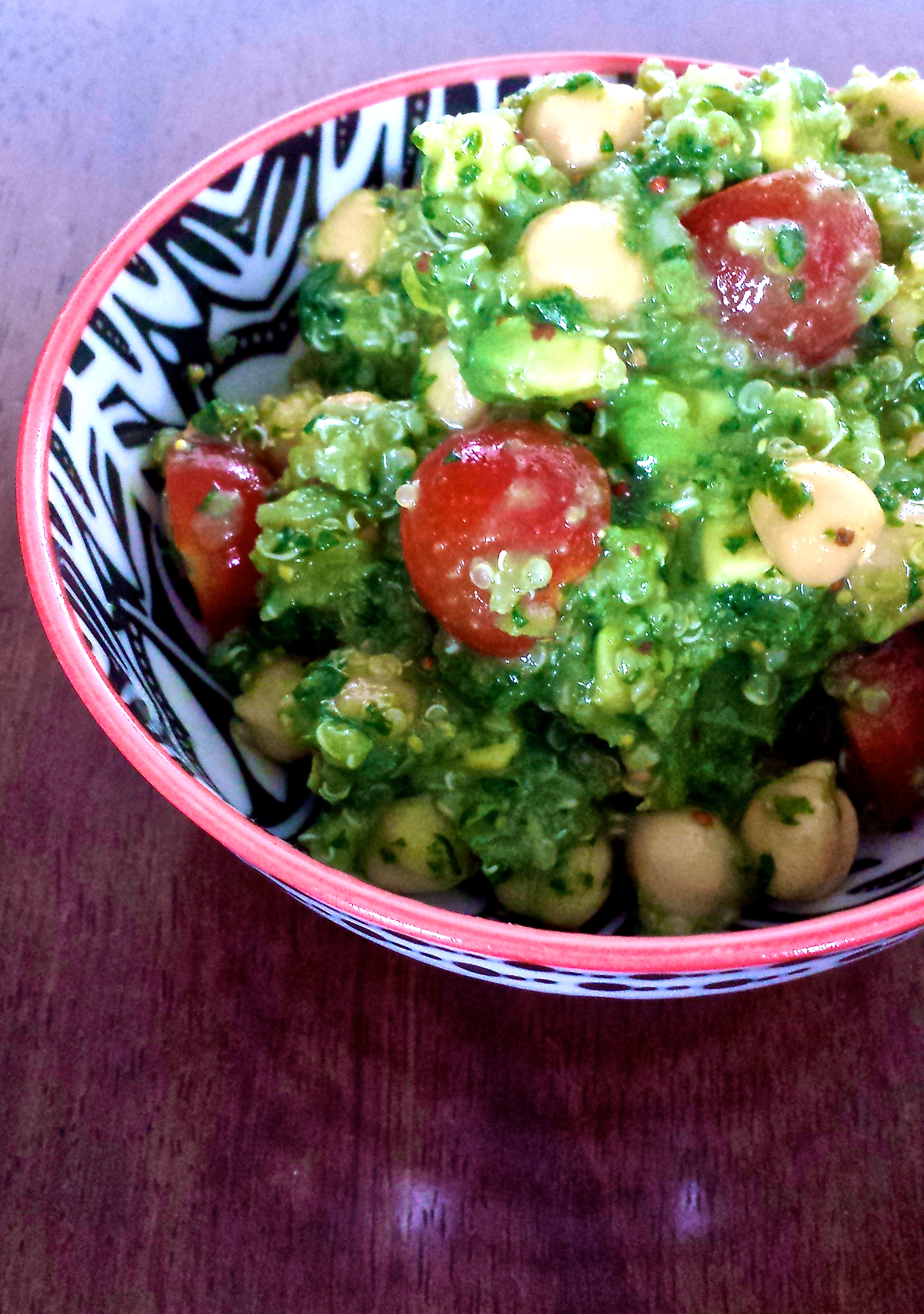 This salad is absolutely amazing. Thanks thediva-dish.com for all the tastiness! It's super healthy for you, it's heavy, it's filling, and it's amazing.
Quinoa and beans have some good protein, you get some healthy fat from the avacados, and some good ol' lycopene and fiber from the spinach.
Ingredients:
½ cup dry quinoa

1½ cup vegetable broth

(OR 1 c. prepared/cooked quinoa)

1 cup garbanzo beans (drained and rinsed)

1 cup cherry tomatoes (cut into halves)

¼  onions (diced)

3 cloves garlic (chopped)

2 avocados (diced)

1 bunch cilantro (bottom stems cut off)

2 cups spinach
Dressing:
2 tsp. dijon mustard

zest of 1 lemon

Juice of 1 juicy lemon
2 tsp. olive oil

1 tsp. honey

½ tsp. cumin

salt and pepper
Directions:
Prepare quinoa like the package says to. Thediva-dish.com likes to use a rice cooker on the white rice setting to make it easier.

Set aside cooked quinoa.

Add cilantro and spinach to a food processor and process the green until chopped up finely.

Add the chickpeas, chopped greens, tomatoes, onion, avocados, and garlic in a bowl.

Whisk the dressing ingredients together in a bowl and then pour it over the salad.

Salt and pepper as you like.

Enjoy an amazing, healthy, salad.
Frozen Blueberry Bites  
(Credit: http://www.skinnymom.com/frozen-blueberry-yogurt-bites/)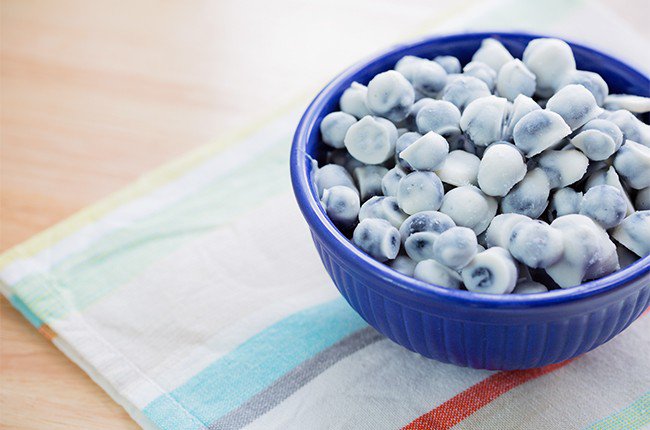 These are all pretty easy meals to pull off. They don't take a lot of time or, thankfully, skill. So I'm going to end this post with one of my favorite desserts that are absolutely low-drama and super-easy to make.
These frozen blueberry bites are healthy for your family, a great snack, and my family can't get enough of them.
Preparation: 10 minutes
Cook Time: 1 hour to freeze
Servings: 10 OR however many you want.
Serving Size: 12-13 blueberries….OR however many you want. That's the beauty of this dessert.
Ingredients:
1 pint blueberries (about 125 or however much you want)

1 cup vanilla yogurt. I like my Greek Yogurt.

1 tbsp stevia (or sugar or sugar substitute…whatever you want)
Directions:
Line a baking sheet with parchment paper or something that will keep the yogurt blueberries from sticking.

Mix together the yogurt and sweetener in a medium mixing bowl.

Gently fold the blueberries in to coat them in yogurt, scooping them up with a fork to knock off the excess.

Spread the blueberries out, making sure they don't touch.

Freeze the blueberries on the pan. Takes about 1 hour.

After they're frozen you can store them in air tight containers to keep in the freezer. I put mine in Tupperware.
There it is! I hope you guys enjoy this compilation of delicious dishes. I have found them to work so wonderfully for my family.  
Please share any treats, dinners, or salads you love in the comments below!