TLDR: The Olympics are one of my family's favorite events. We have large get-togethers and make (maybe too many) nights an Olympic party. Here are some of the favorite snacks and sweets we love.
Table of Contents: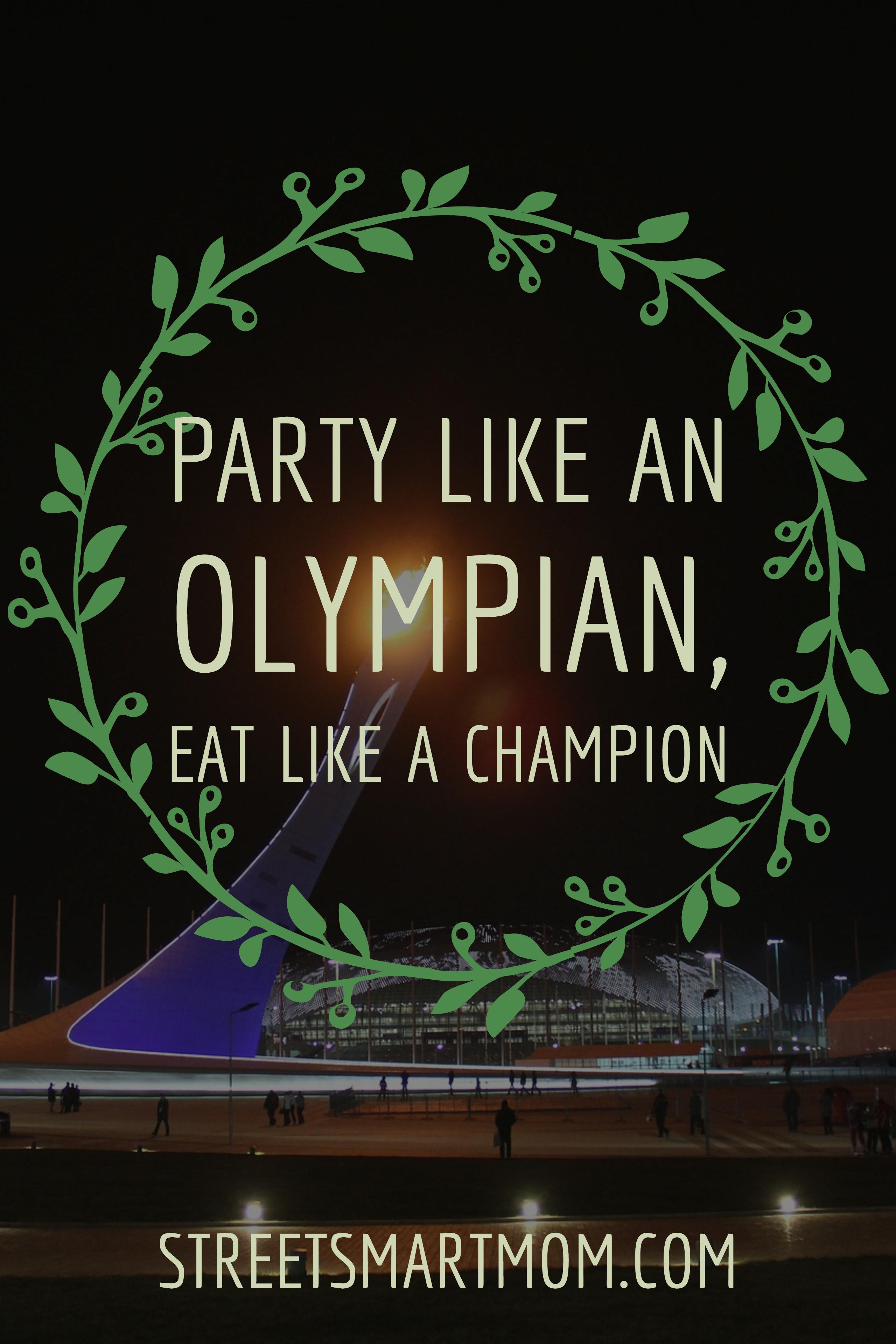 Olympic Ring Cookies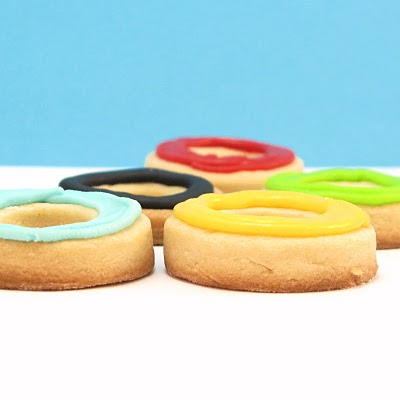 Make these super-simple and tasty Olympic rings for your next Olympic get-together!
These cookies are my go-to when I'm feeling lazy or if I don't have enough time for something bigger.
Also, kids and adults love them equally.
You can find all the necessary ingredients and equipment at either your local department store and your local craft store.
Ingredients:
– 2 mini circle cutters (2 different sizes)
– Frosting colors (yellow, black, green, blue, and red)
– 5 frosting bags
– 5 couplers
-5 decorating tips (size 5)
– 5 rubber bands
Directions:
– Use chilled cookie dough, roll them out, and then cut the circles out with the larger cutter and then finish the hoop by stenciling out the center with the smaller cookie cutter.
– Put them on baking paper and let back according to the cookie recipe.
– Get your frosting ready by separating them out and mixing the color in accordingly. Pour the frosting into the frosting bags with the size 5 tips and close off with a rubber band.
– Wait for your cookies to cool when done. Decorate the cookie circles with frosting.
– Enjoy your Olympic ring cookies!
(Recipe found on http://thedecoratedcookie.com/2010/02/olympic-ring-cookie-bites/)
Olympic Ring Doughnuts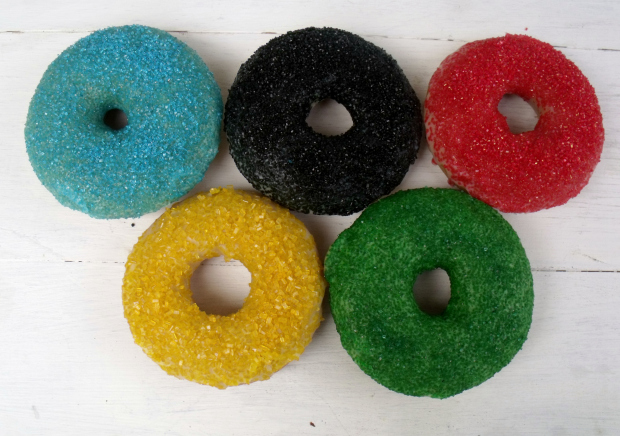 And while we are on the super simple and tasty track…
Try out these Olympic ring doughnuts.
This will literally be the easiest treat you could make for Olympic games and it is literally almost sure to be loved by everyone. I mean…who doesn't like doughnuts?
Another thing, these are easy enough they are a fun activity for younger kids to do while the games are on.
Ingredients:
– Miniature/regular doughnuts (unfrosted)
– Black, yellow, blue, red, and green sprinkles
– Frosting
Directions:
– Use different bowls for the separate sprinkle colors. Heat your frosting just a little bit so that it has the consistency of a glaze (so that it is sticky and the sprinkles will stay on).
– Dip the top of the doughnut into the frosting and then into the color of sprinkles desired.
– Enjoy your doughnuts!
(Recipe found on http://www.whateverdeedeewants.com/2012/07/olympic-doughnut-rings.html)
Olympic Torch Cupcake Cones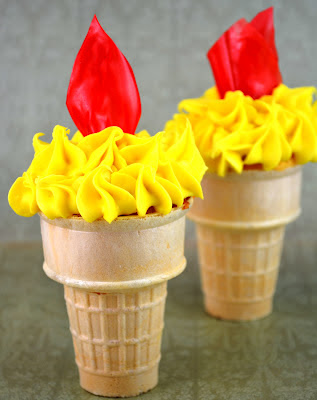 I made these a couple days ago when my son had some friends over to watch the Olympics, and they were a big hit.
I really enjoy the frosting myself.
I'm going to make them again this Saturday!
Ingredients:
– Cake mix
– Ice cream cones
– Frosting (yellow)
– Toothpicks
– Fruit Roll-ups
Directions:
– Mix up your cake mix and then pour it into the ice cream cones until they are 2/3 full. Place your cones in a baking dish where they are not going to tip over and make a mess. I used bread pans.
– Bake the cupcake cones for around 30 min. at 350 degrees.
– Let the cupcakes cool. When they are ready put the frosting on. I used 1M tip to create the fire look.
– Cut your fruit roll ups so that they also mimic the appearance of a flame. Just wrap it around a toothpick to get it to stand up better. Then poke it into the center of your frosting.
– Enjoy your cupcake cones!
(Recipe found on http://sweetology101.blogspot.com/2012/07/olympic-torch-cupcakes.html)
Chocolate Cake of Champions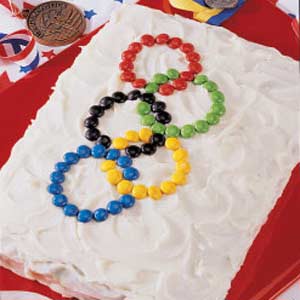 This is a great cake. I've used it for my kids' birthdays and decorated it all sorts of ways. This time I decorated it with M&Ms to create the Olympic rings on the cake.
Ingredients:
– 1/2 cup butter (softened)
– 2 ¼ cups brown sugar (packed)
– 3 eggs
– 3 oz. unsweetened chocolate (melted then cooled)
– 1 ½ tsp vanilla extract
– 2 ¼ cups flour
– 2 tsp baking soda
– ½ tsp salt
– 1 cup sour cream
– 1 cup boiling water
Frosting:
– 1/2 cup butter (softened)
– 4 cups confectioners sugar
– 1 tsp vanilla extract
– 4-6 tbsp milk
– 14-16 M&Ms for each circle (yellow, blue, black/brown, red, and green)
Directions:
– Cream the butter and brown sugar in a bowl, adding one egg at a time (beat well after each one). Then beat in your chocolate and vanilla.
– Mix your flour, baking soda, and salt and then add the creamed mix alternately with sour cream.
– Whisk in water until it is smooth.
– Pour your mix into a greased 13x9in pan and then bake it for 25-30 min. at 350 degrees. Let it cool for about 10 minutes.
– Prepare your frosting by combining your butter, confectioners sugar, vanilla, and milk enough to get that ability to spread consistently. Then frost your cake.
– Use a circle to make an imprint in your frosting for the Olympic circles. It should be about 2 ¼ in. in diameter.
– Enjoy the cake!
(Recipe found on http://www.tasteofhome.com/recipes/champion-chocolate-cake)
Red, White, and Blue Strawberries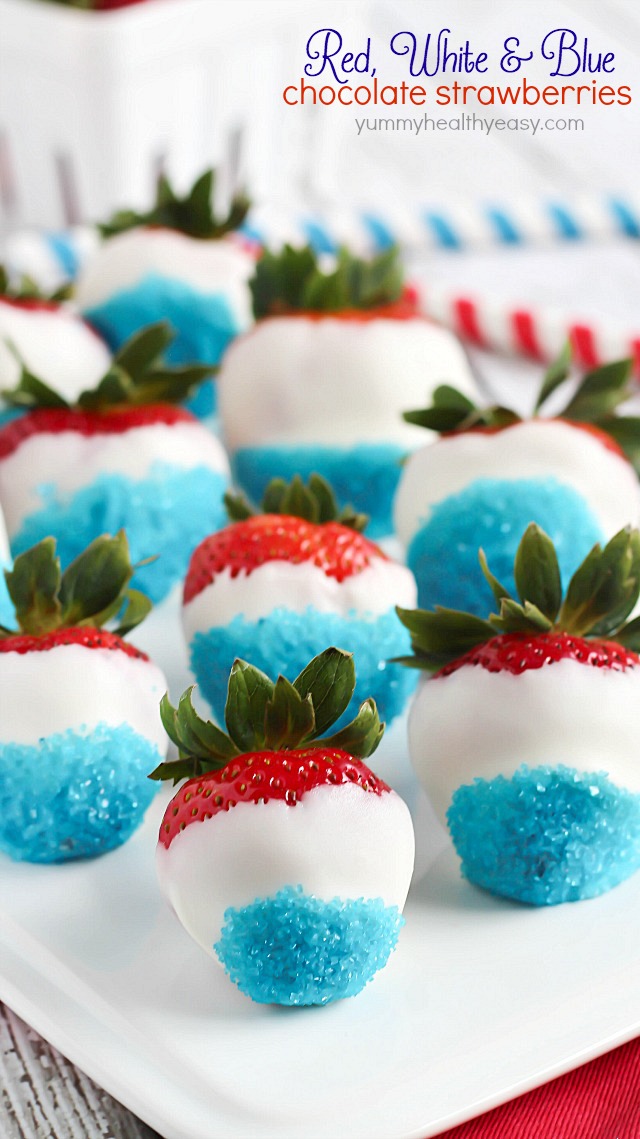 I loooooove chocolate covered strawberries!!!
I saw these cuties and I couldn't resist whipping up some patriotic fruit snacks. My kids super love dipping the strawberries in chocolate with me and then spreading the sprinkles on the bottom.
Needless to say we slipped more than a few into our mouths preemptively.
Ingredients:
– Strawberries
– White chocolate
– Blue Sprinkles
– Wax paper
Directions:
– Melt your chocolate down however it says to on the package that you got.
– Dip strawberries in chocolate and then into the blue sprinkles.
– Set gently on the wax paper and wait for them to harden.
– Enjoy!
(Recipe found on http://www.yummyhealthyeasy.com/2014/07/patriotic-white-chocolate-strawberries.html)
Olympic Rings Fruit Platter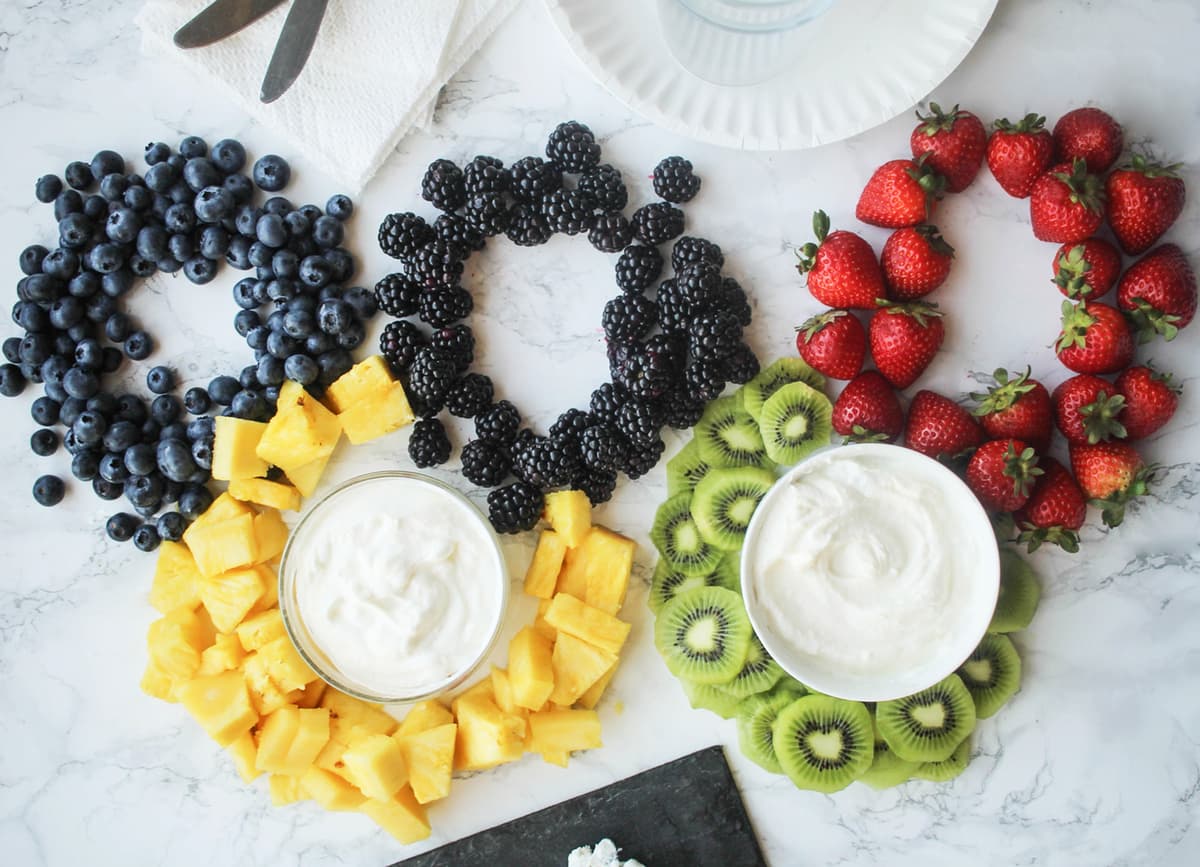 On the healthier side of the party we have the Olympic fruit platter.
As I have said before, I love, love, love fruit. And the nutrients are a great addition to the festivities.
That's why fruit is so amazing! It is sweet enough you just want to munch on it, but it's healthy so you don't have to feel guilty about putting it in your body or your kids eating too much junk.
You can also make this sweet mascarpone and yogurt sauce for the guests to dip their fruit in.
Ingredients:
Fruit:
-Basically you want five different fruits to match (or come close to matching) the Olympic colors.
(This is what I used:)
Blue: Blueberries

Black: Blackberries

Red: Strawberries or Raspberries

Yellow: Pineapple

Green: Kiwi or Apple slices
(Recipe found on http://www.thekitchn.com/olympic-rings-fruit-platter-233752)
For the fruit dipping sauce, I used the following–
Mascarpone Yogurt Sauce: (Credit: http://www.thekitchn.com/recipe-bruleed-fruit-with-mascarpone-yogurt-sauce-228391)
– 1 cup plain Greek Yogurt
– 1/4 cup mascarpone cheese
– 1/2 cup coarsely chopped toasted macadamia nuts
Directions:
-Pretty simple! Just put them in the circles on a big white platter. The white platter just really makes the colors pop so it looks pretty.
-Put the sauce to the side with a large serving spoon. The guests can serve themselves on their plates and dip the fruit in. It is delicious!
For the sauce:
-Whisk yogurt and mascarpone until smooth. Top the fruit or sauce with macadamia nuts if desired.
Beef and Onion Empanadas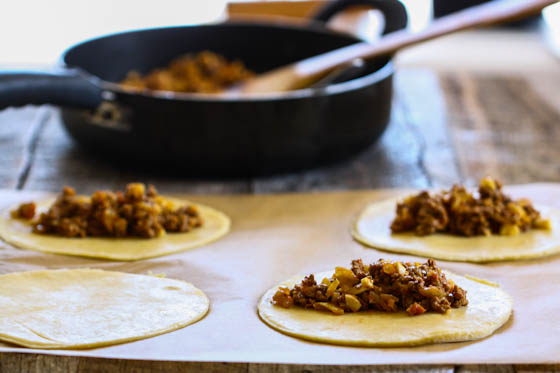 This is the perfect party finger-food. My family (and anyone else I've introduced them to) has gone crazy for them.
This is another dish that disappears crazy fast so make sure to make plenty.
Ingredients:
Dough:
– 2 cups water
– 1 tbsp salt
– 1/4 cup lard
– 4 ¾ cups flour
Filling:
– 1 lbs. well-marbled beef (very finely chopped)
– Salt
– Black pepper
– 1/4 cup lard
– 6 tbsp. unsalted butter (4 tbsp. cut into tbsp. and 2 tbsp. cut into small cubes)
– 3 medium onions (quartered and thinly sliced)
– 2 tsp. red pepper (crushed)
– 1 tbsp. ground cumin
– 1 tbsp. sweet smoked Spanish paprika
– 4 scallions (white and green parts minced separately)
– 2 tbsp extra-virgin olive oil
– 1/4 cup chopped oregano
– 2 large hard-cooked eggs (chopped)
– 1/2 cup pitted green olives (chopped)
Directions:
-In small saucepan, combine the water and salt, bring it to a simmer, add the lard and stir until it is melted. Pour it all into a big bowl. Let it cool to room temperature.
-With 1 cup at a time, stir in four cups of flour until the dough starts to ball up. Work the dough on the counter (slightly floured counter) adding the remaining flour a couple tbsp. at a time until the dough is stiff/dry. Make the dough into 4 equal sized pieces and pat them down to 1 in. thick disks. Cover them with plastic wrap and let them chill for at least an hour (or up to 1 day).
-In another bowl, season the meat with salt and pepper. In a large skillet melt 1 tbsp of lard in 4 tbsp. of butter. Add the onions and cook over moderately low heat. Stir for about 8 minutes or until it is translucent. Stir in the pepper, cumin, scallion whites, and paprika and let it cook while you stir for 2 min. When it is off the heat, stir in the scallion greens. Season all of it with salt and pepper and transfer it to a big bowl.
-Heat 1 tbsp. of oil in a large skillet and add half the meat and cook it over moderately high heat. Stir it until it is browned (about 2 minutes). Mix the meat with the onions (use a spoon with holes so you don't carry over the liquid). Repeat this step with the other 1 tbsp. of oil and meat and mix it in the large bowl as well. Season again with salt and pepper. Cover it and let it chill until it is firm.
-Put some wax or parchment paper over two baking sheets. Roll out one piece of dough to a 7×14 in. rectangle that is about 1/8 in. thick. Use a cookie cutter that is about 3 ½ in. to cut out 6 pieces of dough and set them on the baking sheets. Repeat with the scraps and keep going until you're out.
-When you're ready, preheat the over to 350 degrees. Set 1 tbsp. of the meat filling in the center of each dough circle. Cover with the chopped eggs, small cubes of butter, and olives. Moisten the edges of each circle of dough with water (using your finger) and fold it in half, enclosing the toppings into a half-moon dough encasing. Pinch the edges together.
-Bake the empanadas for about 20-25 minutes or until they are golden. Flip them over half way through cooking to get both sides evenly.
(Recipe found on http://www.foodandwine.com/recipes/beef-and-onion-empanadas)
Sausage-Stuffed Brazilian Cheese Breads (Pao de Queijo)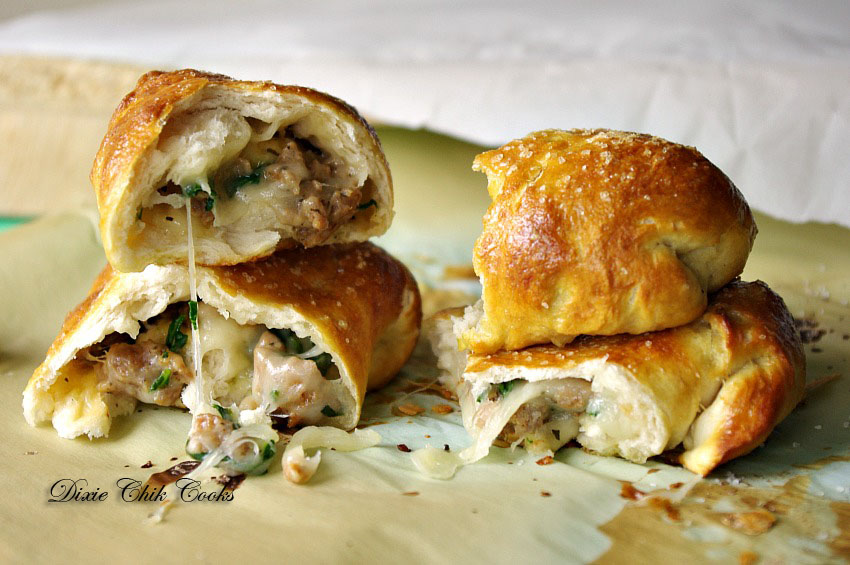 Of course, in honor of the games being held in Brazil this time, every good party should have some Brazilian themed yummies.
We really enjoyed these cheese breads!
Ingredients:
– 1 tbsp olive oil
– 1/2 lbs. hot Italian sausage (casings removed)
– 1/2 cup water
– 1/2 whole milk
– 1/2 cup vegetable oil
– 1/2 tsp salt
– 2 cups sour tapioca flour (regular tapioca flour is fine too)
– 2 large eggs
– 1 cup shredded parmesan cheese
Directions:
– Preheat oven to 400 degrees.
– In medium skillet, heat the olive oil, add sausage and cook over moderate.
– In medium saucepan, put water, milk, vegetable oil, and salt in and bring it to a simmer, then remove from the heat.
– Place sour tapioca flour in a big bowl and mix in the hot milk mix with a spoon until the flour is mixed in well and has that sticky dough feel. When the dough is cool enough, knead it until it is smooth and mildly warm.
– Add the eggs (one at a time). Knead and mix with the spoon until it is all blended in then stir in the grated cheese and cooled sausage.
– Make the dough into 2 tbsp size balls and put them on wax paper in baking sheets. (Easiest with greased hands).
– Bake them until they are puffed and golden (usually about 20 min.) and then let them cool before eating.
– Enjoy!
(Recipe found on http://www.foodandwine.com/recipes/sausage-stuffed-brazilian-cheese-breads-pao-de-queijo)
Brigadeiro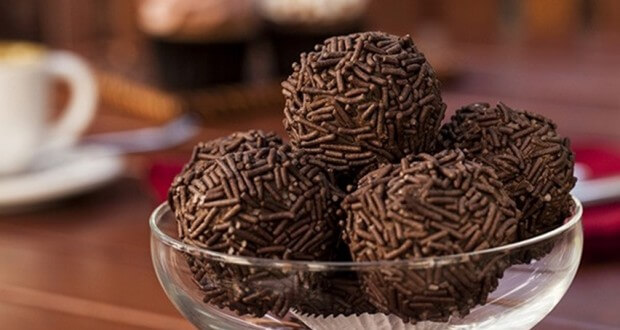 These little Brazilian truffles are a hit at any party.
I confess I ate way more than I should have…we all did. The platter was gone before anything else.
So make plenty!
Ingredients:
– 2 tbsp unsalted butter
– One can of sweetened condensed milk (14 oz.)
– 1/2 cup cocoa powder
– Pinch of salt
– 3 oz. chocolate sprinkles
Directions:
– Over medium-low heat melt 2 tbsp of butter and then stir in the sweetened condensed milk, cocoa powder, and salt.
– Cook and stir the mixture until it is smooth and mildly thick (usually about 10-12 minutes). When it is ready, put the mix in a bowl and let it sit and chill for about 30 minutes.
– Butter your hands and roll tablespoon size balls, dip and roll them in the sprinkles, and then set them out on a plate or platter.
– Chill until you are ready to serve them.
(Recipe found on http://www.foodandwine.com/recipes/brigadeiro)
Virgin Caipirinha Drink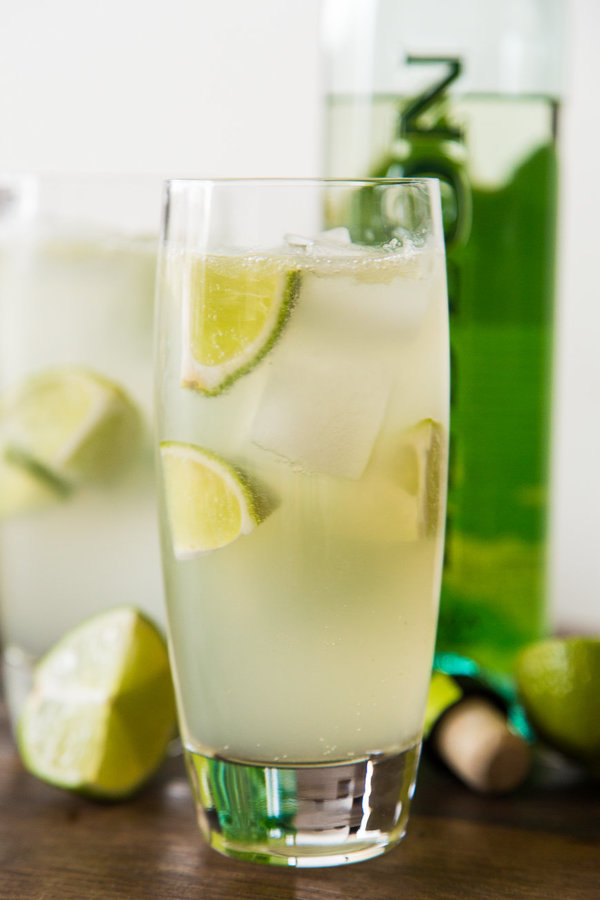 I selected to do a virgin version of the caipirinha since we don't personally drink alcohol at our household. Additionally, I knew my kids and their cousins and friends would want to try the drink out at our get-togethers.
If you want to try to alcoholic version, Huffington Post has a few different awesome-looking versions.
Ingredients:
– 1/2 lime (diced)
– 1/2 small lemon (diced)
– 1/2 small orange (diced)
– 1 sugar cube
– Ginger beer
– Fresh mint (garnish)
Directions:
-Put the fruit at the bottom of a glass/mixing glass and add the sugar cube and a dash of ginger beer. Mix them around to release the juices in there.
-Strain everything into a glass filled with crushed ice and then top off with ginger beer.
-Garnish the drink with some fresh mint and serve with a straw.
– Enjoy your drink!
Hope you all enjoy the Olympics and these awesome treats!
Kathy's Favorites:
In a house of picky eaters, my family and I all agree that Keebler makes the BEST ice cream cones! So I buy them in bulk because, well, I love buying things in bulk when I can!