Good afternoon Smart Moms!
I posted recently about camping in rainy weather, but I live in the dessert, so the weather changes rapidly. One day I'll see sunshine, and the next I'll see snow. So what do we do, when we can't play outside? Or with the onset of the holidays, and the breaks from school?
For the most part, my kids and I will be spending our time indoors. Mainly in our house. Now, odds are that your kids will need to be entertained at home. While older children tend to take it upon themselves to create their own entertainment, but younger kiddos may need you to take the lead on this. Sounds like a lot of work, right? If you work from home, or perhaps just have a lot to get done during the day or at night, having a plan that will keep your children occupied can be life saving.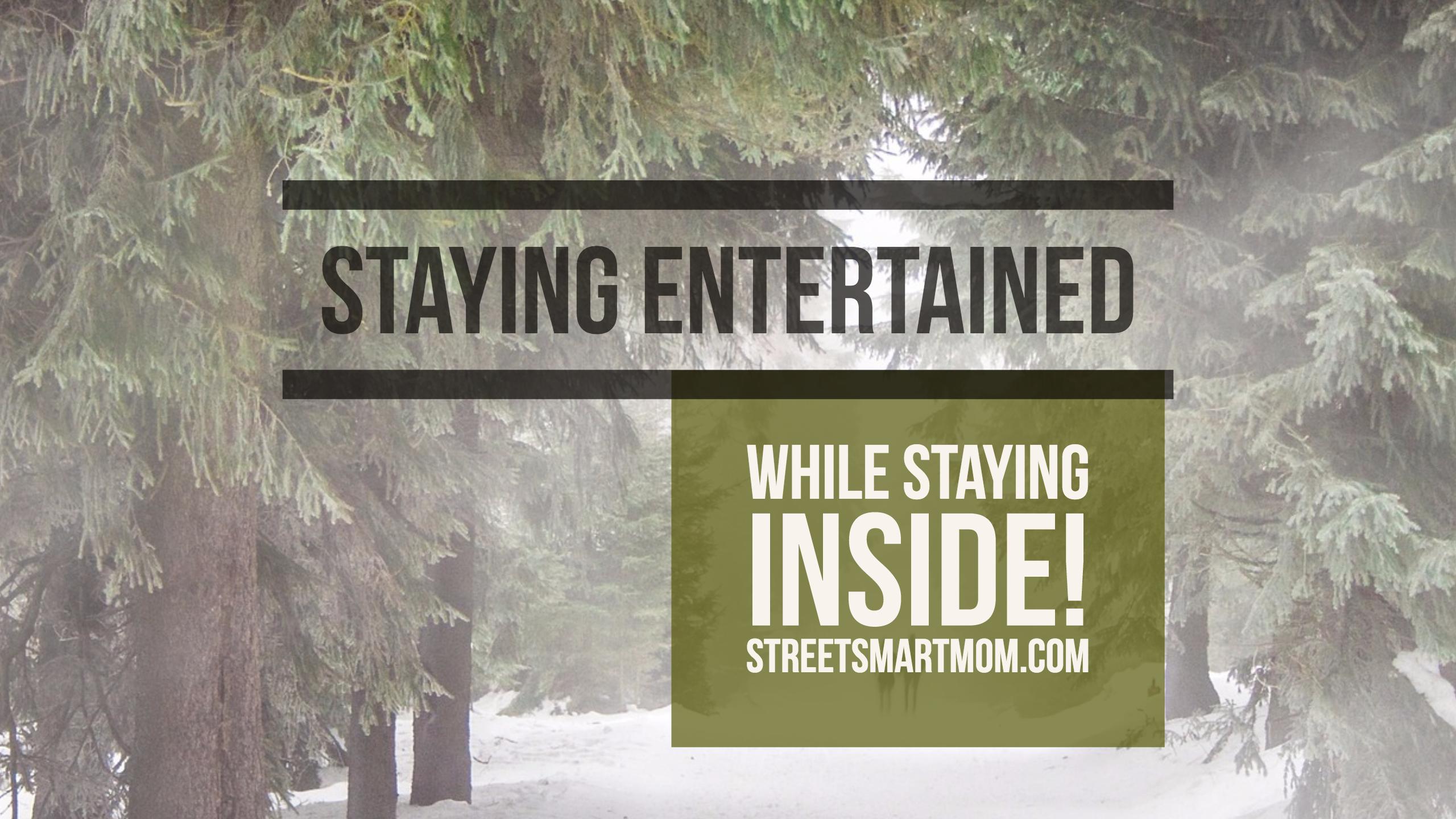 Or, maybe you have a day off and want to do something with your kids that does not involve bundling up in layers on layers and braving that frozen monster we call "winter." Not to mention that it can be miserable and even dangerous to go out into the cold where there is ice to drive on and blizzards that make it hard to see. In case you couldn't tell, I kind of hate the cold. And winter in general. But if that's not you, by all means, go play in that white powder! However, if staying indoors is the right thing for you and your family, even if just for a night or two, I have compiled a list of ideas that can make your day indoors fun for everyone.
1. Make a movie fort
Bad weather outside often makes us want to curl up somewhere cozy, regardless of how old we are. And in relation to that, it will do your kids good to let them build and create–not to mention that my kids like to make secret forts, and that makes it all the more fun. So grab some couch cushions and help them build their secret den movie fort!
Set up cushions and pillows along the floor, and then use the larger sofa cushions and/or chairs to build the walls. We like to grab a bunch of blankets and throw them over the top of the cushions to make a roof and a door. Then, once you have your den all set-up, I'll either just let the kids watch Netflix on the iPad or open the front to have easy access to the t.v. Then they can be preoccupied while you finish your work, house related or otherwise, and then join them later!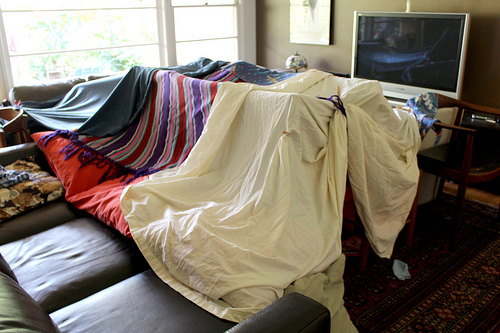 2. Let them be dramatic
Children often have less inhibitions than adults, which is why they make such great performers. If you have a few children, or your kid has some friends over, encourage them to put on a show of sorts. For example, a dance, a play, or a fashion show, to name a few. Give them a few props or costumes (if you have some on hand,) or even just some old clothes for them to dress up in. Then leave them to it! It's such a fun and funny way for them to pass the time. Plus, it can take a whole day if they get really into it!
3. Bake
Nothing truly seems to scream 'it's raining outside' quite like baking. This is a great activity that you can all do together! Where kids won't really care about the semantics of baking, they love jobs where they can use their hands! I usually let them mix it or pour in the flour after I've measured it out. Then of course, like with cookies, I let the littles roll them into balls to put on the pan. And don't forget the most important job of licking the bowl!
4. Get crafty
Cold weather or a rainy day is prime crafting time. Movie days are so fun. And kids love playing Xbox and video games. But I think it's good sometimes to put the electronics away and pull out the fabrics and sewing kits. Maybe glue guns and paper plates?
The idea may be met with opposition. My kids have been known to fight it. Even when that has been the case, once I put my foot down and we start cutting and gluing, giggles and fun always follow.
You may want to go out and get supplies to have on hand just in general. I generally head to Michael's and Hobby Lobby for all my crafting needs. As an added bonus, if you get Halloween and Christmas themed crafts to make, it is a good opportunity to make some cute decorations for the house! You can even get a head start on your children's costumes. Children will feel good when you take pride in their work, so make sure you display the finished result around your home.
5. Let the (board) games begin!
When was the last time you even played Monopoly, let alone had your kids play? It's pretty common now for most family's board games to be stored away for years. But if you happen to get snowed in, you might start wipe the dust off. Board games were so popular a decade or two ago, but a lot of kids today may not have ever seen or played some of the ones you have in reserve. Introduce them to the classics like Monopoly or Scattergories.
If your children are a little younger, you can lay it safe with a fun one like Operation. And while so many of the older games remain timeless, it may be more appealing to the younger demographic to get the newer or more updated versions of these games. My family loves the Lord of the Rings Monopoly, and Disney Trivial Pursuit. You may even find that your children enjoy it so much that board game night becomes a regular in your house.