Beautiful day, Smart Moms.
Pretty short post today.
We're going to talk about some tips for driving while you're pregnant.
It's super easy, but definitely something that can be easy to forget about.  So here's a good reminder.
Sit away from the steering wheel, preferably as far back as possible. (One site recommends about 10 inches away from the steering wheel). (3)
If your car has the ability to adjust pedals, this can help out shorter mothers to sit further back while still being able to reach the pedals. (1)
Buckle up the right way and keep it snug. The NHTSA recommends women wear their belts with the shoulder strap over the collar bone and the lower strap should be under the abdomen and across the thighs (basically as low as you can on the hips). Don't ever put the strap above or below your belly. Keep that shoulder strap over your chest (not behind you as you might be tempted to do). (3)
Sit back. Don't lean forward.
The NHTSA says that air bags are safe as long as you're properly buckled and sitting as far back from the bag as you can. (3)
Take your peppermints with you (or whatever helps you with nausea. Morning sickness can be compounded with motion sickness in your car. Maybe invest in one of the bracelets that help out with motion sickness. Don't drive if you're too sick. It's not worth being a risky driver. Make the drive as easy on you as possible.
Make every change to drive safer. Become the model driver. A study found that the risk of a car accidents increased with the second trimester but dropped during the third. (2) So just make sure to pay attention to the road, minimize distractions, keep to the speed limit, and be a defensive driver.
On longer trips, take more breaks so you can stretch out and keep swelling down. You want to keep that blood circulating.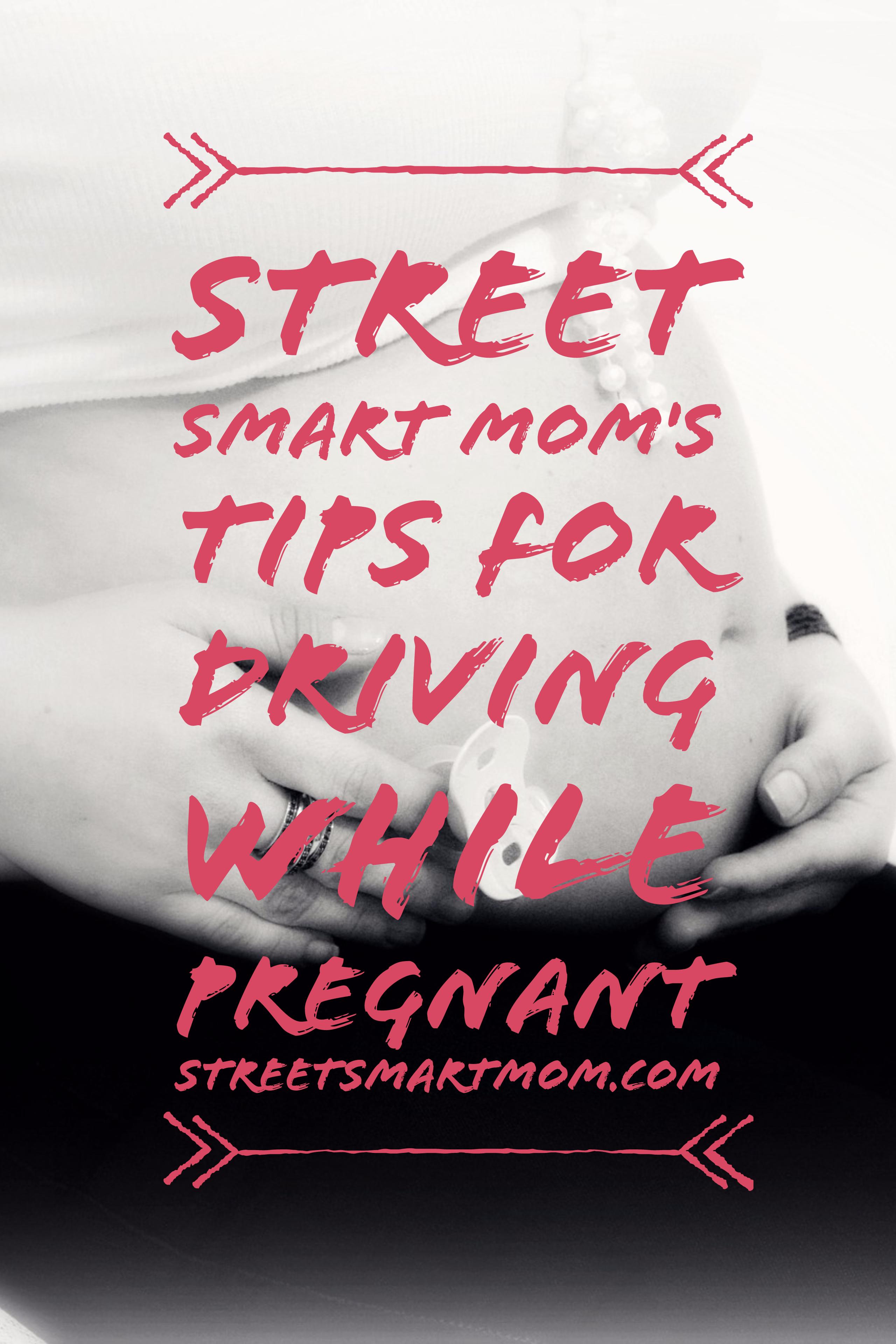 Pretty simple but sometimes easy to forget. Hopefully this will help.
Remember to stay safe and don't drive if you feel too tired or sick.
(1) http://www.popsugar.com/moms/Tips-Driving-While-Pregnant-41188675
(2) http://www.npr.org/sections/health-shots/2014/05/12/311862978/driving-while-pregnant-is-riskier-than-you-might-think
(3) http://www.babycenter.com/0_car-safety-during-pregnancy_10315876.bc
(4) http://www.babycentre.co.uk/a6959/travelling-by-car-during-pregnancy