Beautiful day, Smart Mom adventurers!
I remember how it was with my first pregnancy…
I'm a traveler and adventurer at heart (when I can't physically adventure, I adventure with my hands and ideas).
Obviously I was super excited about my baby, but I was also a little concerned about the alterations it would have on my life.
How would it change?
Would I still be me?
Well happily I can say that yes, life does change, and yes I am still blissfully me.
So while I had to change how I did things, I still learned my way around pregnancy and then children. One of my concerns was traveling while pregnant. How do I do it safely? What should I know? I've compiled some tips for you expecting mothers that are getting ready to hit the road or fly soon. You can do everything you've ever dreamed and more.
Because traveling while pregnant is super easy!

First off, you'll always want to discuss plans with your doctor (especially for air travel and extended trips). Your doctor can help you decide on what kind of activities you can do depending on what type of pregnancy you have.
Second of all, it's a good idea to carry a card with your due date written on it and any type of medical conditions you have (example: diabetes). (1) That way, if something happens, you pass out, or whatever then you can get medical assistance immediately.
Third of all, your most ideal time to travel is your second trimester. Mainly because the first trimester you are often experiencing morning sickness/nausea and in the third trimester you are more fatigued (and your due date is closer!). (2) And most emergencies involving pregnancy happen in the first and third trimester. (4)
It might be good to stick around town during your last trimester, especially the last two months. It's hard to know when you'll be going into labor or to predict what might happen. If you stick around close by, you won't put undue pressure on yourself, and you'll be able to get to your doctor if something comes up. (3)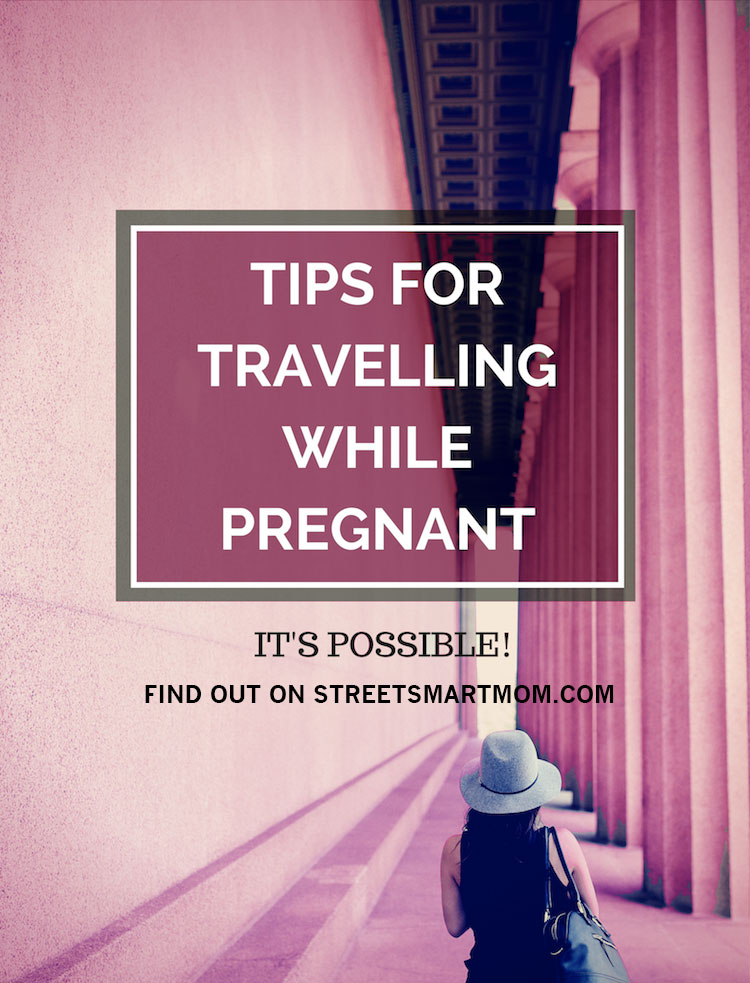 Car Travel
Keep travel time to around 5-6 hours. (2)

Always buckle up.

Slide away from an airbag as far as you can and tilt back your seat until your chest is about 10 inches from the airbag. (1)

Take potty breaks and walks every couple hours in order to reduce the pressure on your bladder and increase blood circulation to prevent any blood clots. (1) This should also help keep swelling down.
Air Travel
Use baggage with the wheels on them so you can easily cart them around. You don't want to be carrying anything heavy around.

Seatbelts matter on the plane too!

Take potty breaks and walks every couple hours in order to reduce the pressure on your bladder and increase blood circulation to prevent any blood clots. (3) This should also help keep swelling down.

Get aisle seats if you can so that you don't have to squeeze over neighbors. This will help you stay more comfortable.

You can go here to look at each airline's policies on flying while pregnant. However, I check them individually when I book tickets just in case policies have changed or if there is other content otherwise not listed on that site.

Airport scanning machines and detectors will not harm you or your baby. They use small amounts of radio waves or x-ray screening that can't hurt either of you. If you're still worried, you can request a pat down instead. (5)

While commercial airlines have safe cabin pressure, unpressurized noncommercial planes (which my fly higher than 8,000 ft.) is not such a good idea especially at the latter end of a pregnancy. The reduced oxygen at those heights may put your baby at risk. (6)

If you suffer from blood clots, sickle cell anemia, or placental insufficiency, you will want to check with your doctor first before you fly. (6)
Ship Travel
Talk to your doctor about norovirus. It can be so icky! Make sure your ship has passed the safety inspection by the Center for Disease Control and Prevention. (4)

Talk to your doctor about safe sea sickness treatments (medications, bands, or natural remedies).

Make sure the ship docks in places where there is safe food or water (or that they provide safe food and water).

Carry hand sanitizer with you.

Check with your cruise line for requirements for pregnant travelers. You may need to bring a doctor's letter and your expected due date. (7)

Take advantage of the ship's exercise rooms and yoga classes (make sure they're prenatal safe).
General and International Travel
Trip insurance might be a good way to go while you're pregnant. It's hard to know what might come up, and you don't want to lose that money. I didn't get any during my first pregnancy, and I had to cancel the day before because of some last minute emergency (everything turned out fine!). So take it from me, it's probably worth it.

Carry medical information, emergency contact information, and any important ultrasounds or documentation you might need in a safe place while you travel.

Keep taking your prenatal vitamins and remember any medications you need in your purse (don't want to get separated from them in your luggage).

Get a check-up before you leave for an extended time or far away.

Carry hand sanitizer with you.

You may want to prepare ahead of time and get numbers of doctors at places you are going just to be extra careful. Maybe even schedule appointments with them ahead of time just in case. You can always cancel easily.

Travel tends to dehydrate people and dehydration can cause false labor pains. Make sure you are drinking enough and even extra fluids. (3) This also keeps your immune system and body happy and healthy.

Keep your own snacks handy so you can regulate your blood sugar and fight any morning sickness symptoms. Also, keeping a hold of some peppermint candy to help fight down nausea is a good idea.

Your healthcare provider may be able to prescribe you anti-nausea medication if you're really struggling with nausea.

If you're traveling outside the U.S. then talk to your doctor about where is safe for you to travel. They can help you figure out where the safest places are, plan for scenarios in which less-than-desirable things happen, and advise you on how to stay safe and healthy during your travels. The CDC website is also a great source for traveling as it gives safety alerts, travel tips, and vaccination advice on all countries you're able to travel too. Talk to your doctor about the safety of getting these vaccinations while pregnant.

Generally speaking, you should not travel to places where malaria is present while you're pregnant. (4)

The International Association for Medical Assistance to Travelers (IAMAT) is a worldwide directory of doctors that you can access if you are traveling abroad. Realize that the doctors might not speak your language so bring a language dictionary if you can. (4)

Register with your embassy or consulate when you arrive at your destination so they can help you if you need to leave the country quickly.
There you have it, Smart Moms! Tips to help you travel safe and smart.
Remember to relax and have fun! Just do your best to prepare and enjoy yourself.
(1) http://www.webmd.com/baby/tc/travel-during- pregnancy-topic- overview
(2) http://americanpregnancy.org/pregnancy-health/traveling- during-pregnancy/
(3) http://www.webmd.com/baby/features/traveling-while- pregnant
(4) http://www.acog.org/Patients/FAQs/Travel-During- Pregnancy
(5) http://www.babycenter.com/404_is-it- safe-to- walk-through- airport-screening- machines-while_2616.bc
(6) http://www.babycenter.com/404_is-airplane- cabin-pressure- safe-during- pregnancy_7240.bc
(7) http://www.babycenter.com/0_traveling-by- cruise-ship- when-pregnant_6973.bc