Hey, Smart Moms.
If you're like me, you can appreciate the things technology does for a kid. It can help them with interactive learning, learning social skills, and keeping them entertained for those times I just need a break. A lot of movies are cute, great for kids, and help them learn life lessons that help them as they grow.
And yes, books, playing with others, and school can all teach them these things too.
The thing is, technology is going to be a big part of their lives as they work through school, manage social relationships, and get careers. What better time to learn to use it wisely than under my loving guidance?
I don't think there is a better time.
The time is now.
Because we all know how damaging too much tech and screen time can be to a kid. They can get grouchy, hyper, angry, and even pick up bad habits from shows that we might have thought were good. (Oops, hey it happens. You have great kids though. These habits won't stick with your help).
With problems like predators and the rise of obesity, your kids need to know early on how to make good decisions for themselves. It's so important they are aware and educated. Not only on how to manage their time, but also of the effects of giving out information on social media or how to approach pornography in an educated way where they can make decisions that reflect your family's values.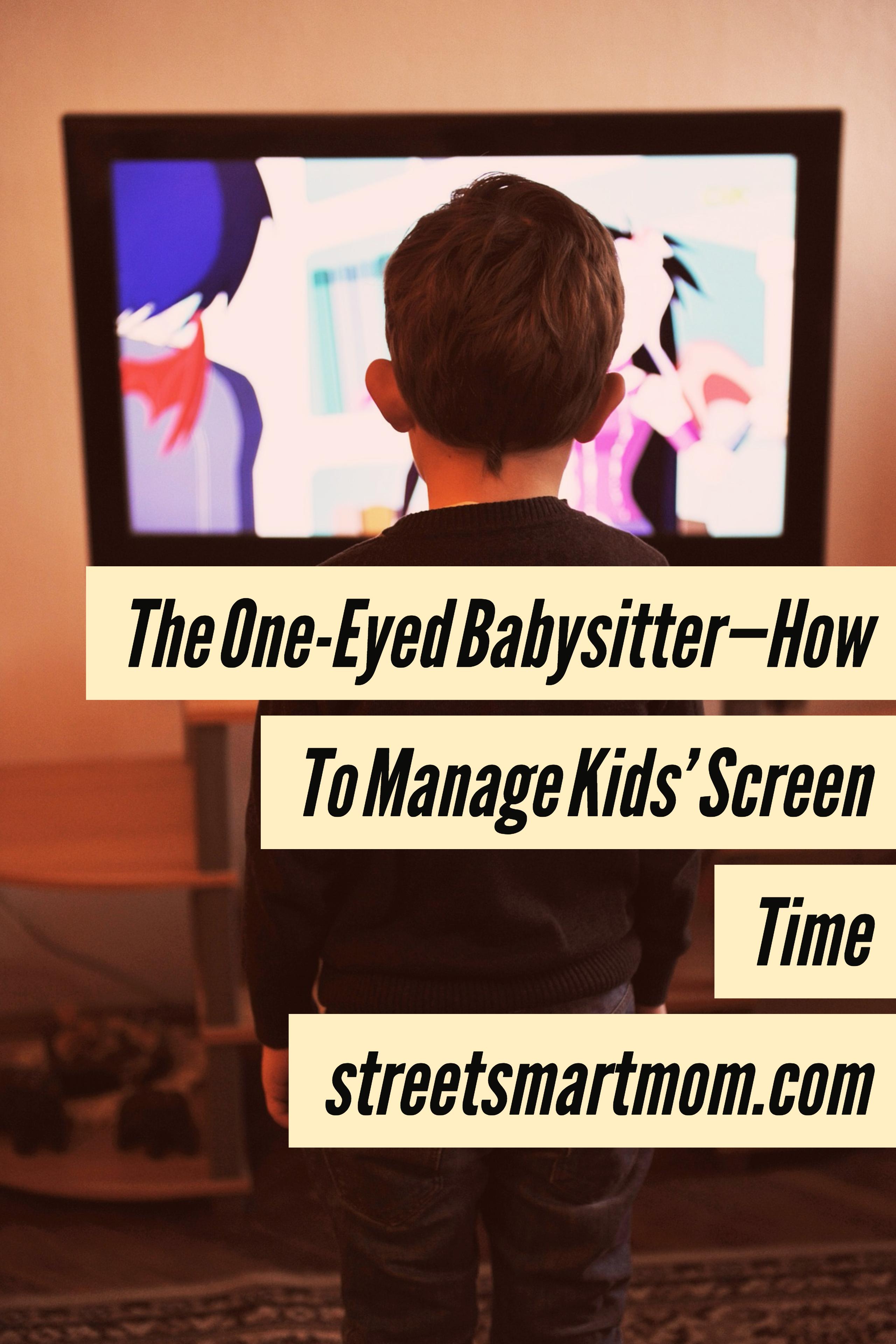 So here are some easy things you can do to help manage kids' screen time, and ways you can help them make good choices. Educate them early on. They can be safe with or without monitoring.
Create beneficial "out of school" time. Anything from church activities, community theater, summer camps, and volunteer projects can help a kid keep away from the screen and engage in fun and helpful activities. (1) This will keep them centered on service, friends, family, and developing useful skills.
Create many non-tech options for kids to choose from. Make outside a fun and happening place. Encourage your children to choose games and activities that aren't tech related, and make them easy to access. You know what they say, out of sight out of mind…so keep non-tech fun in sight.
Play with them. I know this might not always be an option. We're busy moms. But when you can, playing with them can keep them focused on non-tech fun and it builds good memories and relationships.
Even playing their favorite video game with them can be powerful because you're taking an interest in them and it leaves room to have discussions about content.
Set family rules. Develop rules for what the family watches and engages in. Have the kids help decide the rules (of course with guidance and a careful hand) and vote on things. If the kids are leaning towards more unsavory things, then explain to them why it might not be such a good idea. Explain things to them. Kids are smart. They might not always agree with you, but they trust you. If you give them reasons and agree on rules together then they're more likely to comply when it's time to get off. They're also learning how to develop the ability to make good choices for them and use reason to make those decisions.
Make a viewing calendar. Decide which tv shows you all want to watch then turn off the TV when those shows are done. It's so tempting to just keep watching. Shows have a way of sucking you in. So just draw the line at everyone's shows and make the rule TV time is done when those shows are done. (1)
Remember family viewing times. Family time is important. Your kids love to watch their favorite shows with you. Whether you join them on the couch for some of their cartoons, or if you set up specific times that you view movies and TV as a family, your kids will love it. It provides plenty of opportunities to teach your children as the characters come in to conflict or surmount seemingly impossible challenges. (2) The conversations you have can be invaluable.
Make screen time a privilege. It's something your kids should look forward to earning as a reward for getting housework/homework done. Set specific tasks everyday your child has to complete before they get screen time.
Set time limits. This goes along with the prior few bullet points. Know how much of your kids/family time you want delegated to technology. This includes iPads, smart phones, TV, movies, video games, etc. (4) This is also something you can discuss in your family meeting. What's most valuable to each member of your family and have them allot their hours allowed towards those things. This will help teach them to manage time even with things they love.
Your child's agency. Remember that you are helping your children learn to manage and be self-disciplined. As they mature, you should let them start making some of their own decisions so that they can learn how to self-manage. Of course this will all be up to you and how mature your child is. You're the expert on what your child/teen is ready to handle. Hopefully the good base you built with them will continue to serve them under your roof and beyond as they get out in the real world.
Teach them about the risks. There are risks. Especially with the internet. When children are young, they are gullible, naïve, and they don't have all their critical thinking processes developed. They're counting on you to help them learn what's safe and how to make safe decisions. Instruct your children on safety according to what is age appropriate and what they need to worry about. However, it's important to not just assume they won't run into things. Our kids are exposed to a lot at school. They may be more ready to understand than you even realize. Keep open communication with your kids so that you can see where they're at and what they need help with.
Parental controls can come in handy. Parental controls on your phone or on certain TV stations can be helpful. Especially if you're giving your toddler your phone and you only want them on a game…because toddlers can mess up a phone fast. I know.
While I think parental controls can come in handy if your kids are alone for longer periods of time, I still put a lot of stock into trusting your kids and making decisions together. Make clear rules and be clear about the punishments if the rules are not followed. It's easy to catch them using more time or being on places they shouldn't be. I think this establishes trust and makes them want to earn your trust even more…rather than desiring to be sneaky because they feel they haven't been listened to or think rules are unfair.
Screen-free zones. A lot of people choose dinner and the family room to be screen-free. Also, many moms choose to make kids' bedrooms' screen-free. (5) It works really well to have a space in the house where tech is not allowed. Then the emphasis is on family or family reading time.
Remember that you're the expert on your family, and you know what's going to work for you. I think it's important to build trust with your kids and keep them involved in making decisions. Use the opportunities to teach your kids and have fun with them. They love it!
(1)https://www.healthiergeneration.org/live_healthier/get_moving/decrease_screen_time/?gclid=CjwKEAjw3qu5BRC-0uCw8O6Y5zcSJAA_WtdLH7DzqZyz3RERYxAaPY1P7xtCKbEP6vfoV8b18i5nKBoCfbjw_wcB
(2) http://www.greatschools.org/gk/articles/managing-your-childs-screen-time/
(3) https://www.empoweringparents.com/article/4-steps-to-managing-your-childs-screen-time/
(4) http://coolmomtech.com/2015/03/smart-tips-for-managing-kids-screen-time-now/
(5) https://www.familoop.com/parenting-blog/5-easy-steps-to-manage-kids-screen-time
Other sources/resources:
– http://www.parents.com/fun/entertainment/gadgets/managing-childs-screen-time/