Alright, alright. All you non-crafters out there don't turn away from this yet!
I don't care if you're not into arts and crafts or if you think you're bad with your hands just stay with me and read about this amazing thing I learned.
Seriously, this isn't about knitting tactics or how to pick a project. This is about meditation, productivity, love, and innovation.
All really happy things.  Even if you don't think knitting is happy.
Ok so I totally fall into the same boat as many of you, where I totally hated sewing. I respected the crap out of people who could do it, who had a talent for it, the patience for it…I mean I almost worshipped their craftiness.
I just couldn't do it. Couldn't see myself doing it. It didn't matter how much I loved doing things with my hands and doing other crafts. I just didn't want to do anything with sewing.
Whatever my hang ups were, I recently faced them down to discover something new and amazing.
My very close friend recently had a darling premature daughter. The doctors were very unsure about her chances of making it and my friend and her husband were heartbroken. As many of my readers know, it's hard to feel so out of control and powerless. As I watched my friend go through this tough time, I just kept wondering what I could do to help.
Yep, around that time I started researching ways to help and that lead me to knitting for premature babies–and that led me to "oh! I want to do this for my friend!"
So here I was…someone so against knitting for years…determined to knit all the things for this darling baby.
I enlisted the help of my other friend's husband. Yes, many men knit now. Catch up! 😉 And he taught me how to knit. I had many failed projects before finishing a little hat for the little girl.
The amazing feeling of being able to help my friend gave me so much gratification. And happily, as I worked, I noticed it was super easy to breathe and be in the moment I was living in! Something that took me forever to cultivate with just meditation.
The routine, familiar needle work kept me busy and in the moment. It required enough attention that I couldn't space out and worry about everything in my life, but it wasn't over-demanding either.
It was tempting to turn on a movie or watch a show while doing it. I mean it's a good idea because then you're not totally wasting time. But I found that it was so relaxing and beneficial to just have time to zone out with my project. (This is also why I love doing other projects)!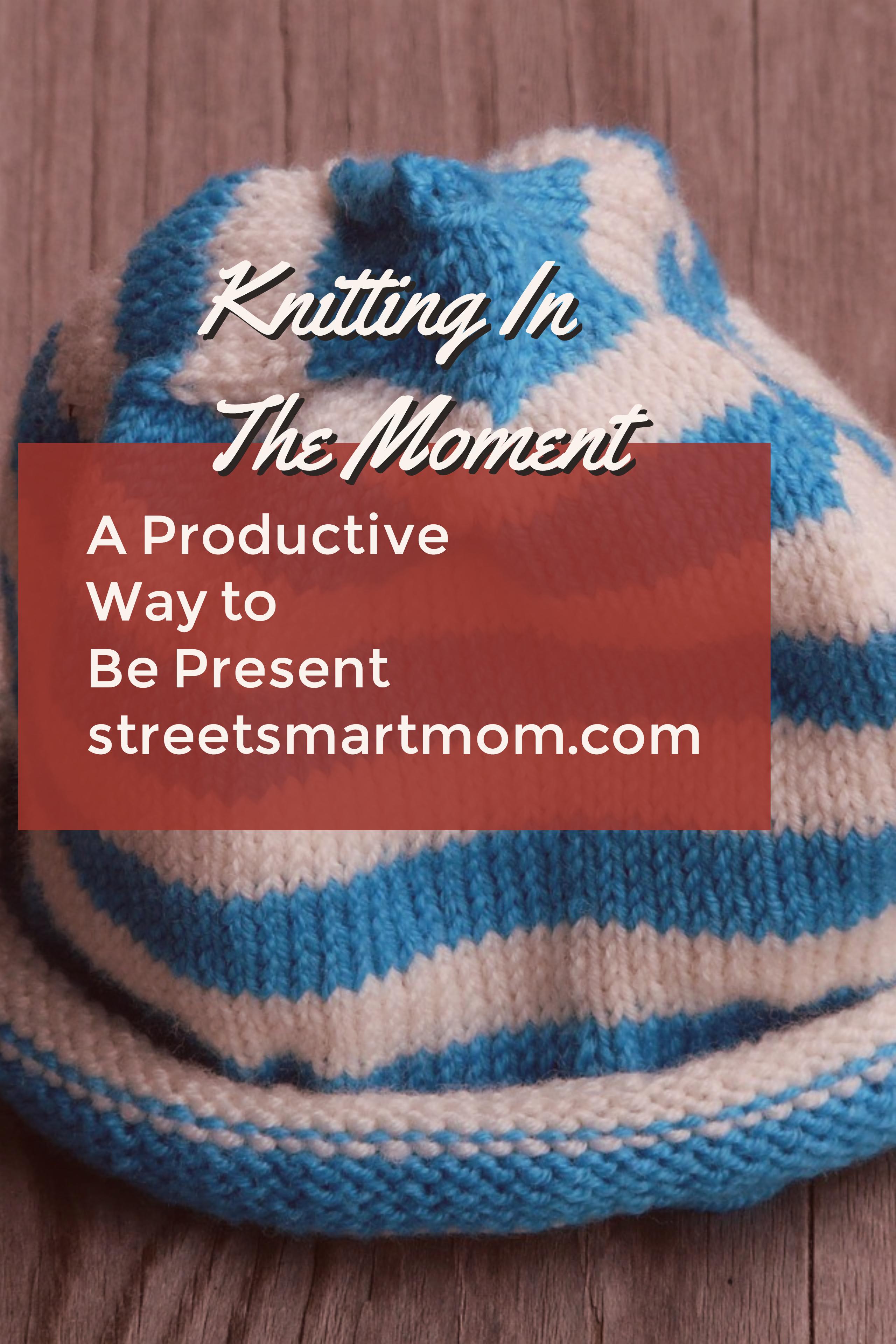 Well I caught the bug. I didn't want to stop. So I started donating my work (yeah, even though it's not perfect) and I now take my knitting with me almost everywhere. I can't even believe that this is me now. The woman who hated anything with sewing. Now I feel super productive even when I'm watching TV shows or sitting in a car.
I did some research into it and it seems that I'm not alone in this discovery.
Apparently a lot of people use knitting to keep their hands busy and stay out of depression. I read about women who managed eating disorders, people trying to quit smoking and struggling with addiction, people with ptsd, arthritis, and many other issues turned to knitting to stay busy, stay in the moment, be productive, and keep away from negative things in their life.
Knitting is a positive, productive activity to turn to instead of whatever bad habit someone has cultivated for dealing with grief or what have you.
Also, I read somewhere that knitting may help stave off some memory loss…forgot where I read that so I can't source it properly for you guys, but I totally believe it!
Likewise, many knitters form knitting circles and friends so it keeps us a lot less lonely. We form quick, solid support groups as we talk over our knitting.
I love it, guys! Literally did not realize how amazing the knitting community is and how healthy and beneficial knitting has become to me and others I love.  
So, even if you don't think you'll like it, even if you think it's stupid, even if you think you're bad at it, even if you've always hated anything sewing relate. I strongly recommend picking up some knitting needles and give it a whirl.
It has been an amazing blessing to me, and I've been able to bless others with it as well.
Win-win-win.
Can't really ask for more.
Leave me some comments about what you love to do to stay in the moment. What's your favorite project?  When did you start knitting? I love reading about my readers so talk to me!