Some quick tricks on how to fly cheap! Today we cover when the best times to buy tickets are and where to search for cheaper tickets. Learn how to give yourself an edge when it comes to getting the best airline flight deals.
Flying can get so expensive and there seems to be a million price comparison and airline sites to buy from. It's hard to sift through all the information and really know if you're getting a good deal or not…especially if you don't fly much or are flying for the first time.
No worries!
We've all been there—I've been there—and I want to share some quick tips on how to fly on a budget (both my own tips and tips I gathered from research).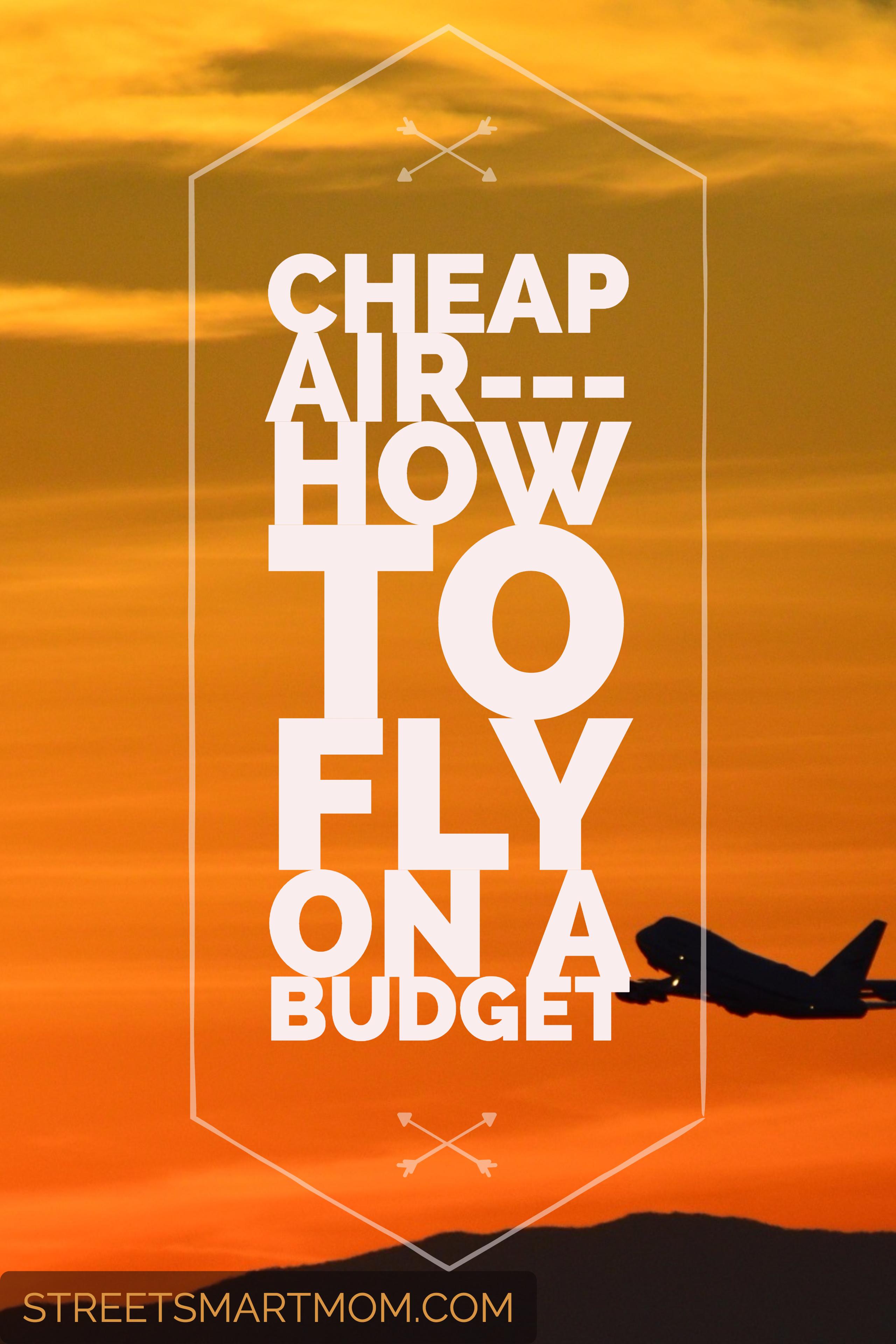 When to buy:
I've always bought on Tuesday (Tuesday at 3pm Eastern time, to be specific), as I've read and have been told over and over again it's the cheapest time to buy. Usnews.com quotes a source, saying it's the "best time to buy airline tickets and shop for travel (domestically)…" (1)
Just to try to make things more difficult, there was a study quoted saying the Wall Street Journal found that if people purchase tickets on Sundays they might save an average of $60. It also showed that Mondays, Tuesdays, and Fridays have quite an increase in ticket prices. (2)
That being said, I have traveled by air quite a bit and the Tuesday rule has never let me down. However, I have found good tickets on Sundays. So the better bet would be to check both days and make a decision. I would guess the days would be close in price if they both have good deals.
Look for morning deals. You'll see most good deals in the morning before they have a chance to sell out.
com advised to buy tickets 47 days out because prices drop gradually until that time. (3) They also claim that anything inside 14 days tends to spike significantly. Usnews.com advises a 42-day-out approach, which falls into the general prime-time to buy.
I've found a sweet spot about 3 weeks to a few months out.
Though last minute deals do happen, I would completely avoid them (unless you spontaneously decide to leave the country). There's just no knowing if those deals will come through, and if you'll get them.
Buying way in advance isn't beneficial. Prices tend to be a bit pricey when flights first open and then drop gradually. Prices tend to be lower a few months before travel than a year before travel. (3) I've found this to be true several times as I've done my ticket hunting, watching for trends. Though I keep checking throughout if I have a destination planned, just in case I find a sweet deal, I usually find those better prices a 3 weeks to a few months out.
There are exceptions to this rule. For example, the best time to buy Hawaii tickets is 11 months out. Also holiday and summer travel you're generally better off looking pretty far out rather than closer to your flight date. (3)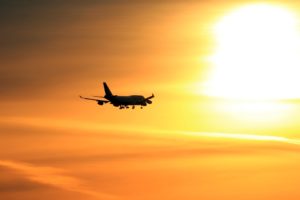 When to fly:
Red-eye flights can be rough but goodness those prices can be sweet!
Early flights (the ones no one wants) are usually cheaper.
Wednesday is the cheapest day to fly for domestic according to Farecompare.com. More empty seats equal a need to discount tickets in order to fill the plane and make more money. Farecompare said that Friday and Sunday are the most expensive days to fly; Wednesday, Tuesday, and Saturday are the cheapest days to fly. (1)
Give yourself an edge:
Sign up for email alerts. Yeah, I know it can be annoying, but if you're watching a specific flight it can save you money. You can sign up for alerts from departure airports if you're not quite sure which destination you have in mind. (4)
I use On They Fly app on my phone to search for sweet deals. I have found some of the best deals on this app. I'm constantly looking for different deals at different destination because I love to travel and I love to plan, and this app has worked great.
I also use cheapoair.com to contrast my On The Fly app. Sometimes I find better deals here. Whatever you use, it's a good idea to look at a few of your dependable sites in case one of them misses something.
com came highly recommended on several sites I researched. I haven't tried this out myself, but I'm planning on it now. You can sign up for alerts from a team of people who send you those alerts when prices fall a good amount, or they think you would actually have a good deal. So it sounds pretty neat.
Do your research and figure out what works best for you. The best way to learn something is to practice a lot and delve right in. This is a great way to start as it will generate ideas, and it's a great place to start from! Before long you'll notice patterns and find sites and apps that work great for you.
It's a good idea to acquaint yourself with budget airlines like Southwest and Ryanair. They don't have tickets listed on comparison websites, and you don't want to miss their deals. You'll want to watch out for extra fees with baggage and such on these flights. It's a way for them to make more money, which is understandable, but you want to be aware of your commitments before you make them. Make sure you're really getting a good deal. (1)
I've flown with both airlines mentioned, and I really enjoyed the flights at the very discounted prices.
Sometimes you have to sacrifice comfort and space for cheaper tickets. I've done international, long, red-eye flights like this.
Long? Very much so. Worth it? Very much yes.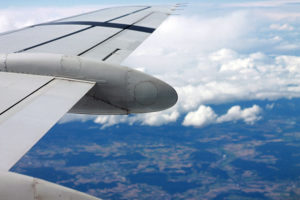 (1) http://money.usnews.com/money/personal-finance/articles/2012/04/18/8-insider-secrets-to-booking-cheap-airfare
(2) http://www.komando.com/tips/12347/new-best-day-to-buy-cheap-airline-tickets-online/all
(3) https://www.cheapair.com/blog/travel-tips/when-to-buy-airline-tickets-based-on-1-5-billion-airfares/
(4) http://www.wikihow.com/Buy-Cheap-Airline-Tickets
Street Smart Favorites
My advice for enduring those loooong red eye flights–GET A NECK PILLOW! I can't even tell you how helpful they are. Honestly, they are God given. I believe angels made them. I found this memory foam one, and have never gone back. It makes everything so much easier, especially if, like me, you often spend a great majority of your flight holding your child. I can sleep while she does!